There are many reasons to have an open casket funeral. Although the practice can make some people uncomfortable, saying goodbye to a loved one's earthly remains can also help to give mourners the closure they need to go on with their lives.
Celebrities often have additional reasons for being displayed publicly. Open casket memorials are the ultimate way to honor their fans by giving them one last chance to pay their respects. And more gruesomely, some open casket funerals are done to prevent inaccurate death rumors from spreading.
The famous people on this list all held very different positions in the public eye, but they shared one common grand finale: open casket funerals.
---
James Brown
James Brown was "the Godfather of Soul," a music legend and a larger-than-life character. Brown began his career in the 1950s and continued on until the end of his life. Celebrities who payed respect to the Godfather included Al Sharpton, 50 Cent, Joe Frazier, MC Hammer, Prince, Buddy Guy, Ice Cube, Ludacris, Dr. Dre, Little Richard, Dick Gregory, Jesse Jackson, Ice-T, Jerry Lee Lewis, Bootsy Collins, LL Cool J, Lil Wayne, Lenny Kravitz, Stevie Wonder, Todd Williams and Don King.
Brown will always be remembered as one of the most influential musicians of his time, as well as one of the most misunderstood.
---
Bruce Lee
In life, Bruce Lee was a larger-than-life figure – an actor, husband, father, and the master and founder of Jeet Kune Do. To many of his fans, he seemed invincible. To many of his modern fans, his on-screen vibrancy makes it seem as though he still lives.
Lee was extremely dedicated to being physically fit, which is why his death in 1973 at the young age of 32 came as an absolute shock.
Before Bruce's body was flown back to Seattle to be buried, a public open-casket memorial was held for his fans. The service was attended by 25,000 people. He apparently suffered from cerebral edema, or swelling of the brain, after having an allergic reaction a painkiller he took for a headache.
There is still some dispute about whether the swelling occurred before or after he took the medication. Because of the strange and tragic manner of his death, there have been countless conspiracy theories surrounding the event, including that he may have been poisoned.
---
Marilyn Monroe
Although the legendary blonde bombshell did have an open casket funeral, there are no photos of that event in existence. However, one artist created an amazing sculpture of the event. She now lays next to the late Hugh Hefner, whose casket was placed alongside hers. Monroe passed away in August 1962 from acute barbiturate poisoning. There were empty bottles found next to her, leading people to wonder if she had taken her own life.
A sculpture of Monroe in her casket was created after her 1962 death from an accidental overdose. The sculpture was created by an Italian artist and was based on descriptions of the green Pucci dress, veil, and makeup Monroe wore for her burial.
crisantip/Pinterest
While Monroe is still considered a cultural icon today, there is a conversation about whether her status is because of her movie career, or her off-screen exploits.
---
River Phoenix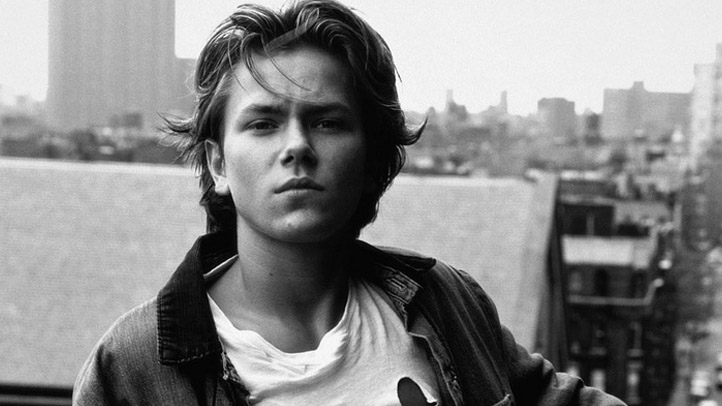 After Stand by Me actor River Phoenix (big brother of Joaquin) died of a drug overdose in 1993, his body was displayed in an open casket private ceremony intended only for his closest friends and family. In the early 1990s, River Phoenix was the "It" boy of Hollywood. He had it all: looks, fame, and youth. Many believe his career would have soared to massive heights if he had lived longer. Sadly, Phoneix partied far too hard one night and it took his life.
Unfortunately, though, an unscrupulous photographer broke into the funeral home that was holding his body, took a photo of him in his casket, and sold it to (guess who) The National Enquirer for $5,000. Phoenix overdosed on cocaine and morphine. Sadly, he could not be revived and he died at the age of 23.
River's brother would go on to have an amazing acting career, even winning an Oscar in 2020 for his lead role in Joker
---
Martin Luther King, Jr.
Iconic civil rights leader Martin Luther King, Jr. was gunned down in 1968. After his death, King's body was displayed in an open bronze casket in Memphis. The wound in King's neck was still visible, and many mourners kissed the glass over his face. His "I have a dream" speech is still one of the most-quoted speeches of all time. Sadly, at the height of his work and at the young age of 39, Dr. King was assassinated. One day before his death, he addressed the possibility of being killed in a speech called "I've Been To The Mountaintop."
He was interred in Atlanta, at the Martin Luther King, Jr. National Historic Site. His wife Coretta Scott King is also buried there. This is one of Mr. King's greatest statements:
"I have a dream that my four little children will one day live in a nation where they will not be judged by the color of their skin but by the content of their character." — Martin Luther King, Jr.
---
John Lennon
After the former Beatles's tragic murder at the hands of a deranged fan, his widow Yoko Ono opted not to have a funeral. Instead, she asked his fans for 10 minutes of silence in remembrance of Lennon.
As a member of The Beatles, John Lennon helped revolutionize the music industry. His impact and legacy will last long after his early and tragic death. His children have also followed in his musical footsteps!
This photo depicts Lennon's corpse in a body bag at an NYC morgue. Over 100,000 people gathered at Central Park to mourn the beloved musician.
Aside from his role in the music industry, Lennon acted in several films, both alongside his Beatles bandmates and by himself. One of his most famous roles was in How I Won the War from 1967, a British black comedy directed by the great Richard Lester.
---
GG Allin
The original rock shocker, GG Allin died of an accidental heroin overdose in 1993. His corpse was unpreserved, and was dressed in his signature leather jacket and jockstrap. He was buried with a microphone, a bottle of Jim Beam, and a portable cassette player holding his album "The Suicide Sessions."
His antics sometimes got him arrested. Allin also once claimed that if he were not a musician he would probably be a serial killer or murderer.
Punk musician GG Allin explored many taboo subjects in his music as well as in his performances which often included self-mutilation and other controversial acts. His antics sometimes got him arrested. The entire funeral was recorded, and is available for viewing online if you're into that sort of thing.
Fair warning, watching the funeral is not for the faint of heart. He was a rock star after all, and he was celebrated in his passing the same way he lived his life.
---
Abraham Lincoln
Abraham Lincoln was the 16th President of the United States. He led the United States through the Civil War and managed to preserve the Union, which came out victorious. He also paved the way for the abolition of slavery. While attending a play at Ford Theater, President Lincoln was assassinated by actor John Wilkes Booth.
Today, Lincoln is remembered as one of the country's greatest Presidents, and he has even been memorialized with a show at Disneyland in Anaheim, California.
After his death, Lincoln's body was carried by a train called "The Lincoln Special" through 180 cities on its journey back to his home state of Illinois. At each stop, the coffin was taken off the train and his body displayed to the public.
Lincoln's lasting impact on society can still be felt today. Not only did he end slavery, but he also helped the country recover after a devastating civil war.
---
Elvis Presley
The King of Rock and Roll, Elvis Presley, is still heralded as one of the most important figures of all time in music. He was one of the first to bring "rock" to the mainstream, during a time when he even the gyrating of his hips was considered to be indecent.
Despite many parents' initial views of him, he became well loved around the world and also released his own gospel albums.
He also starred in tons of films as the romantic leading man. Like so many others in the industry, Presley struggled with drug addiction that he couldn't recover from.
Toward the end of his life, Presley looked physically different than the stunning young man of his twenties, which can be blamed on his problems with drugs. He began to struggle immensely with his health and died due to cardiac arrest at age 42.
---
Whitney Houston
In perhaps one of the most egregious photo leaks in recent celebrity history, The National Enquirer published a photo of Whitney Houston in her casket on the front cover.
The photo was provided (illicitly) from one of the funeral staff. Although there was much public outcry over the publication's decision to run the photo, that issue was one of the Enquirer's bestselling ever.
Eerily, this same tragic situation was repeated just 3 years later, when Houston's daughter Bobbi Kristina was found unresponsive in a bathtub. After six months in an unresponsive state, Bobbi Kristina died, and a photo of her lying inside her casket was shopped to tabloids the day before her funeral. Though the photo was purchased (by an unknown party) for $100,000, it was never published.