Actress Lori Loughlin and her husband, fashion designer Mossimo Giannulli, were sentenced to two and five months respectively by Judge Nathaniel M. Gorton. The sentences are in line with terms of their plea deals laid out months ago.
Loughlin — who was wearing a white blouse and appeared virtually via Zoom — initially seemed calm, showing little emotion as her attorney BJ Trach said she is "profoundly sorry" for her actions. But when it was Loughlin's turn to address the judge, she forced back tears as she apologized.
"I made an awful decision. I went along with a plan to give my daughters an unfair advantage in the college admissions process and in doing so I ignored my intuition and allowed myself to be swayed from my moral compass," she said. "I have great faith in God, and I believe in redemption and I will do everything in my power to redeem myself and use this experience as a catalyst to do good."

Lori Loughlin
In their plea agreement, Loughlin, 56, agreed to serve two months and pay a $150,000 fine along with two years of supervised release and 100 hours of community service. Giannulli, meanwhile, would serve five months in prison, pay a $250,000 fine with two years of supervised release and 250 hours of community service.
Meanwhile, in Giannulli's hearing on Friday, Judge Gorton announced that he believed the sentence is "sufficient but not greater than necessary under the circumstance."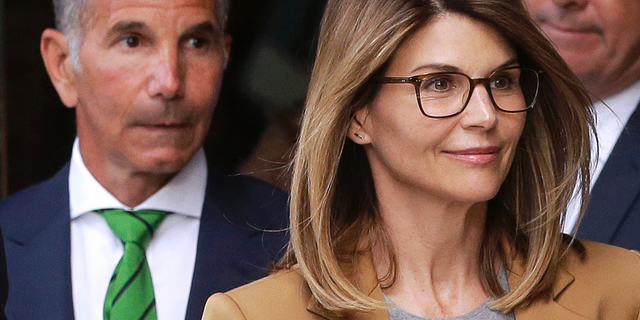 The fashion designer, who is 57, also appeared in a Massachusetts federal court via Zoom from what appeared to be a conference room in Los Angeles. He wore a dark suit, a light pink shirt, and a dark purple tie. His hearing took place just hours before Loughlin's.
Following Gorton's acceptance of his plea deal, Giannulli addressed the court.
"I do deeply regret, as [attorney] Sean [Berkowitz] said, the harm that my actions have caused my daughters, my wife, and others. I take full responsibility for my conduct, I'm ready to accept consequences and move forward with the lessons I've learned from this experience."

Mossimo Giannulli
Both Loughlin and Giannulli have 60 days to pay the fine. They need to report to a facility that has yet to be determined before 2 p.m. Nov. 19.
By Mariah Haas, Tyler McCarthy | Fox News